Occupational Therapy
What IS Occupational Therapy?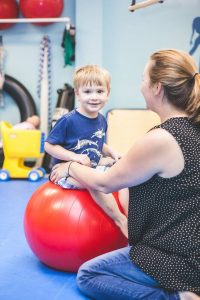 Occupational therapy is when occupational therapists and sometimes assistants help people to participate in their desired activities and occupations by strengthening the everyday activities, they need to use to be successful.
Occupational therapy considers the complex relationship between the client, the activity, and the environment where the activity takes place. Examples of OT interventions include but are not limited to:
Helping a child with a disability to participate fully in school and social situations,
Assisting an injured worker in regaining skills they need to function in their job, or
Providing support to older adults experiencing cognitive or physical changes
What do Occupational Therapy services include?
Services focus on the client's goals and can include:
Individualized Evaluations – Where the family, individual and occupational therapist determine the person's goals
Customized Intervention Plans – Activities to improve the person's ability to perform the activities to help reach their goals, and
An Outcomes Evaluation – A review to ensure the goals are being met and make changes to the intervention plan.
 OT services may also include:
Comprehensive evaluations
Recommendations for adaptive equipment and how to use it
Guidance and education for family members and caregivers

 

Services Offered at Sensory Stepping Stones:
Private Assessments/Evaluations 
A parent intake session is done first for all evals
4 and under: 45–60-minute session
5 and 6 years: 1 hour and 15 minutes 
6 and up: 90-2hrs (May be done in 2 appointments)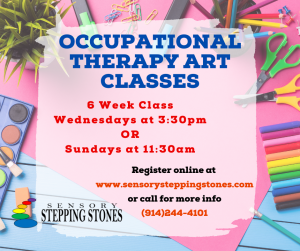 Individual Therapy Sessions  
Sessions are tailored to the child's individualized needs. Treatment sessions range from 30-45 minutes
Handwriting Groups – Please Call TBD
30 minutes · Small groups of 2-3 kids focused on improving handwriting skills 
Art & Social Groups – Please Call TBD
1 hour · Our unique social groups focus on enhancing peer interactions in a nurturing environment and provide OT services through play and crafts
Want to know about our Occupational Therapy Staff?
Check them out here: