Executive Functioning / Organizational Coaching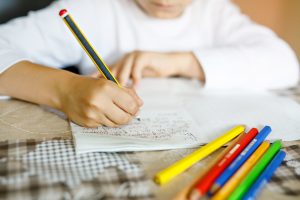 Sensory Stepping Stones is excited to be offering executive functioning / organizational coaching to Middle School and High School students!  Focusing on grade-specific organization skills, study skills techniques, test-taking strategies, and test anxiety we can provide the help that your child needs either through individual weekly/bi-weekly sessions or once-a-week groups.
What Is Executive Functioning / Organizational Coaching?
Our mission is to help students uncover their individual motivators, develop strategies for success, & ensure that they are equipped with a toolkit for academics. Sensory Stepping Stones', executive functioning and organizational classes are geared for students who face challenges with time and task management, organization and academics. In our sessions, students will learn and apply strategies to stay on task by developing personalized systems to organize materials and be on time with assignments. Together we will learn how to break longer-term assignments into smaller parts and plan how to get the work done without the last-minute pressure.  We will discuss what motivates them and use that knowledge to be productive in school.  Beyond the sessions, students will follow a schedule developed in person with our Executive Functioning Coach who will also follow up with the student and teachers to ensure the schedule is being followed.  In sessions, we will provide help on assignments such as starting and completing writing assignments.  At the end of the sessions, students will begin to develop self-reflection skills to help them take ownership of their new habits. 
Group Sessions
2 NEW Group Sessions coming this FALL!!! Each class will meet once a week for 5 weeks.
There will be a parent zoom meeting scheduled with each family the week prior to sessions beginning, and the remaining weeks will be on the scheduled day /time in the clinic.  Group size is limited! Click the registration link below to register today! Questions? Call us at (914) 244-4101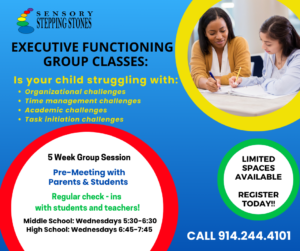 Individualized Sessions – P.O.S.T.
Our individualized coaching sessions (P.O.S.T) can also help the student to get the one-to-one attention and follow through that they may need on a weekly basis to stay on track throughout the school year! Linking Sensory Stepping Stones P.O.S.T. Organizational Coaching Sessions is the best way to pave the road to success!
Contact us for more info or to set up your first session at (914) 244-4101