Animal Assisted Interventions
What is Animal Assisted Intervention (AAI)?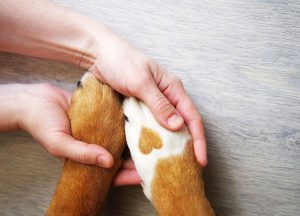 Animal-assisted intervention is a broad term used to describe the practice of using animals in diverse settings and situations that can benefit humans. Animal-assisted therapy (AAT), education (AAE), and activities (AAA) are examples of types of animal-assisted interventions.
Animal Assisted Therapy (AAT)
AAT is a meaningful and goal-directed therapeutic intervention to promote an individual's physical, social, emotional, and cognitive functioning. It is a planned, structured, and documented intervention approach directed by a licensed and trained mental health provider. AAT differs from volunteer therapy animal teams participating in animal-assisted activities and visitation programs.   Through interacting with animals, people of all ages can experience the power of the human-animal bond.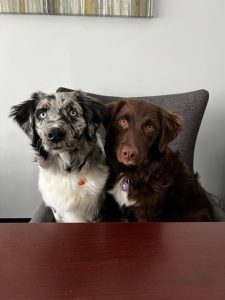 Getting Started with AAT
Clients will be carefully screened and evaluated for participation in AAT, as this intervention and approach may not be appropriate for all clients. While it may be scheduled for Talia and/or Kalina to participate in a therapy session, clients should understand that their welfare is a priority, and it is ultimately up to the dogs to decide the duration and amount of engagement in each session. When the dogs are resting, clients may engage in animal and dog-related games, make toys/treats for the dogs or focus on other skill and strategy areas.
Animal-Assisted Wellness Training Classes
These classes are designed for children, teens, and adults to engage in fun activities with dogs that promote the animals' health, well-being, and training. They are open to anyone to take (inclusive to individuals with and without disabilities). These classes are ideal for individuals who love animals or want to gain more experience with animals in a friendly and supportive environment. These classes are led by an LCSW/dog trainer and will incorporate educational and interactive experiences with dogs specially trained for animal-assisted interventions. Wellness classes do not provide direct therapy, but participants can develop valuable skills while engaging in positive human-animal interactions.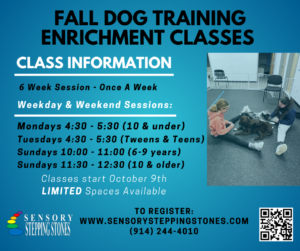 Group & Individual Wellness Sessions
* Groups sizes between 3 and 6 participants – ages 8 & up
* 1 time a week for 1 hour, 6-week sessions
* Individual sessions are available for those ages 6 and up
* For those who love dogs but may not be able to have one at this time
* For people who are inexperienced around dogs but interested in getting one
                     **Can create a class for 3 or more participants on a specific day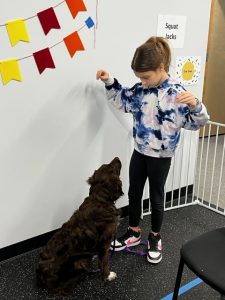 FALL CLASSES AVAILABLE:
Ages 10 & Under – Mondays 4:30pm
Tweens & Teens – Tuesdays 4:30pm
Ages 8 & Under – Sundays 11:30am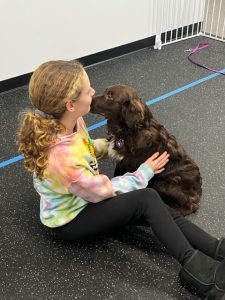 For Individual Wellness Sessions or Individual Therapy please contact the clinic at (914) 244-4101