Music Therapy & Workshops
Music Therapy Classes for Younger Ones
Come use music to learn and play! This music therapy group session will provide opportunities for singing and playing instruments with friends while exploring different topics and themes each week! Using your voice and instruments to increase communication, socialization, and self-expression! Move your body to the beats of your favorite instruments!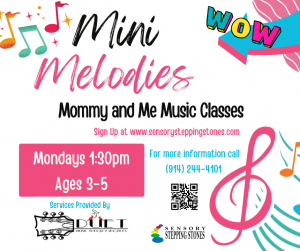 Mondays
1:30 pm – Children ages 3 to 5 years old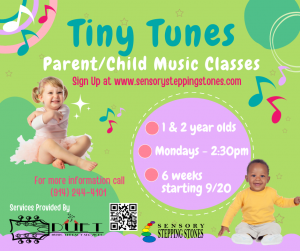 Mondays
2:30pm – Children 1 & 2 years old
What Is Music Therapy?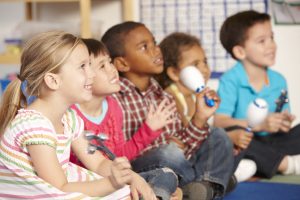 Music Therapy is an established health profession in which music is used within a therapeutic relationship to address physical, emotional, cognitive, and social needs of individuals. After assessing the strengths and needs of each client, the qualified music therapist provides the indicated treatment including creating, singing, moving to, and/or listening to music. Through musical involvement in the therapeutic context, clients' abilities are strengthened and transferred to other areas of their lives. Music therapy also provides avenues for communication that can be helpful to those who find it difficult to express themselves in words. Research in music therapy supports its effectiveness in many areas such as: overall physical rehabilitation and facilitating movement, increasing people's motivation to become engaged in their treatment, providing emotional support for clients and their families, and providing an outlet for expression of feelings. (Taken from The American Music Therapy Association website; www.musictherarpy.org)
Music therapy interventions can address a variety of healthcare & educational goals:
♫Promote Wellness          ♫Manage Stress          ♫Alleviate Pain          ♫Express Feelings
♫Enhance Memory          ♫Improve Communication          ♫Promote Physical Rehab
♫Increased Academic Retention          ♫Increased Attention/Focus
(American Music Therapy Association, 2005)
Music Therapy can assist a variety of populations and all ages including:
♫ Autism Spectrum Disorder          ♫ Addiction Treatment          ♫ Child and Adolescent Behavior
♫ Hospice Care          ♫ Dementia Care          ♫ Pain Management          ♫ Acquired Brian Injury
♫ Mental Health          ♫ Neonatal Intensive Care          ♫ Special Education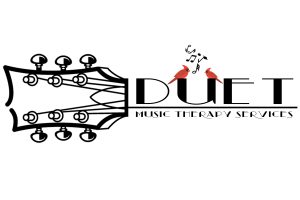 About Duet Music Therapy Services
Duet Music Therapy Services was started by Ashley E. Barton, MT-BC to increase access to music therapy within the Hudson Valley. Duet Music Therapy provides individual and group therapy sessions for a 30-60 minute sessions.
Ashley Barton was born and raised here in Wappinger Falls, NY. After graduating from RCK, she moved to Rochester to attend Nazareth College and received her Bachelor of Music Therapy degree in 2005. She then completed her internship at Finger Lakes DDSO, working with young adults and adults with Developmental Disabilities. She received her credentials soon after and became a board certified- music therapist. She began working at Integrated Therapy Services in 2006 seeing children with special needs in local school districts. The music therapy department became its own entity, Music Therapy Pathways and she spent the last 16 years working there. She recently returned back to the Hudson Valley this past August to help with the care of her developmentally disabled sister. Ashley Barton is married with two children and created Duet Music Therapy Services to be a mom and a therapist.
Visit and follow their Facebook Page – Duet Music Therapy