Tween & Teen Workshops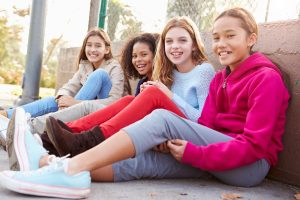 Looking for some unique and creative activities for your tween or teen? We have several new and upcoming programs that can spark the interest of many of your kids.  Have an idea for a workshop? Let us know, and we can see what we can come up with!
Vision Board Workshop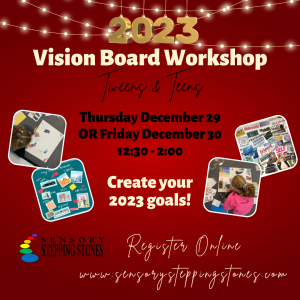 Have you ever felt like you are being pulled in different directions, or like you are under lots of pressure at school? Do you feel overwhelmed when you think about your future?
Do you wish you could 'hit the pause button' and take a step back to figure out what is most important to you? Creating a vision board is a powerful way to create your future and stay on track while working towards your goals!
What is a vision board? A vision board is a collage of pictures, words, and quotes that represent your hopes and dreams and light you up! Many people use vision boards to map out their short and long-term goals. It allows a person to focus on one or two aspects of their lives, or work on their whole-self and aspirations.
The great thing about making a vision board is that there are NO rules when it comes to gathering the images, wording and quotes that you want to feature!
There are so many benefits to creating your own vision board!
Your finished board will give you a clear and concise direction for where you want to go and the goals you want to achieve. 

By creating a physical vision board, you can even touch what represents your vision. It is a constant reminder of what your priorities are.

It feels good to look at! When you are excited about your future, life tends to bring you more opportunities and experiences!
Couldn't I just make a vision board at home on my own? Yes, you could! But scheduling a dedicated day and time to take on a project usually ensures that you won't keep putting it off. It shows that you are committed to self care, personal development, and your future memories. Working with like-minded people at a workshop can inspire you to take your board to new heights! Creating alongside others also encourages you to make new friends and harness the power of support to ensure your board is effective.
Already have a vision board? That's awesome!!! Even if you already have a vision board, it can be helpful to create an additional or updated one, or even a board with a particular theme. Your vision board can be simple with only a few select images and words, or it can be large and detailed- totally up to you!
Making a vision board is not just about cutting and gluing pictures onto cardboard. This workshop will be both informative and inspirational, while we teach you how to visualize the power of your thoughts, mantras and affirmations to successfully realize your goals and make your dreams come true.
In this special TWEEN & TEENS ONLY VISION BOARD WORKSHOP, we hope that they will be able to experience and discover:
What is a vision board?

What are the benefits of a vision board?

How do you choose powerful images?

What words should you NOT put on your vision board?

How do you find a feeling of gratitude NOW, while reaching for a dream?

How do you gain greater insight and clarity into what you really want in life?

How do you use visualization to create those future memories?
Through the inspirational power of group intention, support, and friendship, we will work together to find pictures and words to use, while listening to uplifting music, snacking on treats, and enjoying conversation, laughter and self-reflection time. 
Our goal is that each person leaves the workshop feeling motivated, empowered, and with clear eyes focused on their purpose and passion- and hopefully with a new friend or two, as well!
UPCOMING SESSIONS:

Thursday December 29 at 12:30-2:00
Friday December 30 at 12:30-2:00